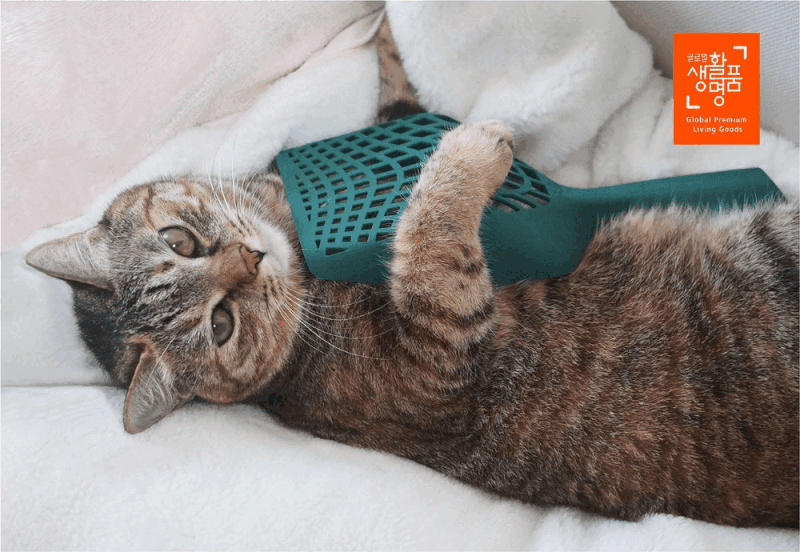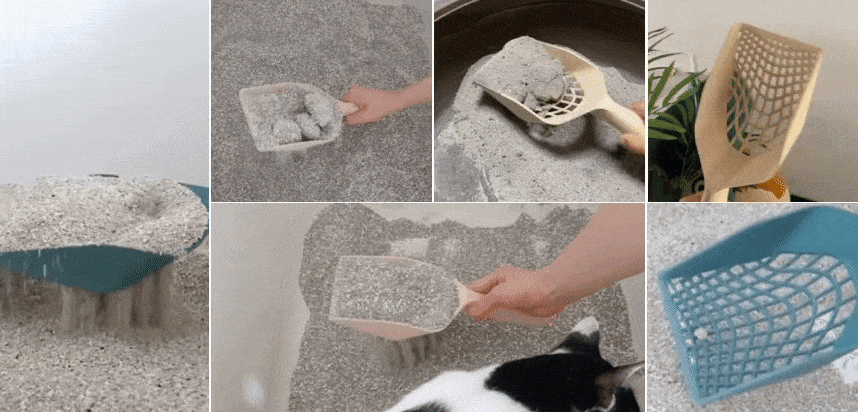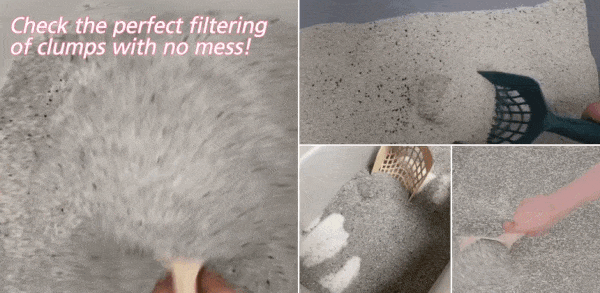 Our cats use the litter box, but it's our responsibility to keep the box clean.
To clean the litter box often, the cleaning should be simple. To Provide the litter box with pleasant environment for our cats, the litter scoops must be comfortable for us to use. Overall the usability of the scoop directly affects the cats comfort and health.
A litter scoop from the bottom of our hearts.
It's us using the scoop! Therefore, SPIDER SCOOP comes in a trendy & ergonomic design made out of eco-friendly materials. Not only it provides a quick litter box cleaning, SPIDER SCOOP also excels in design and material.
Changing the standard of litter scoops! #SpiderWeb #VariousHoleSizes #CatLitterScoop #FitsJustRight
The whole handle in an entasis form with wooden fiber provides the best artistic grip. Reduce the fatigue ↓↓ with beautiful and comfortable scooping.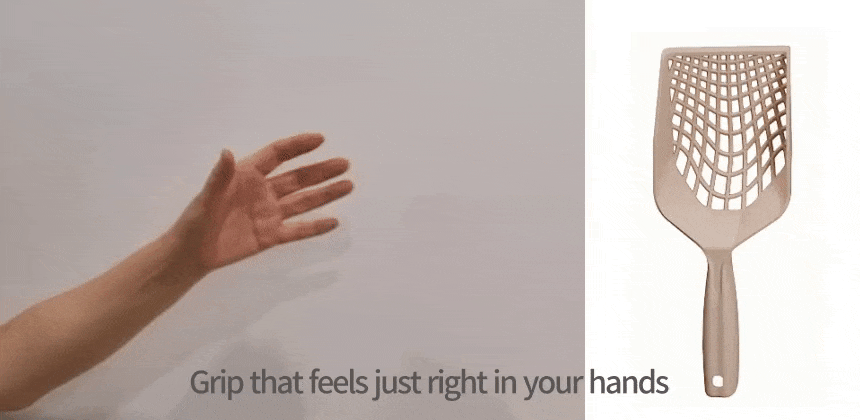 Grip that feels just right in your hands
Filtering large clumps from the back and small clumps from the front with accuracy.

[SPIDER SCOOP] is bigger than the existing scoops out there, it has 108 holes in a unique spider web pattern, so it quickly and accurately catches from big clumps to small crumbs! Are you still using 2 separate scoops each with big and small holes? Now you can solve the problem with just one SPIDER SCOOP!Quickly finish the litter box cleaning, and play with your cats in your spare time!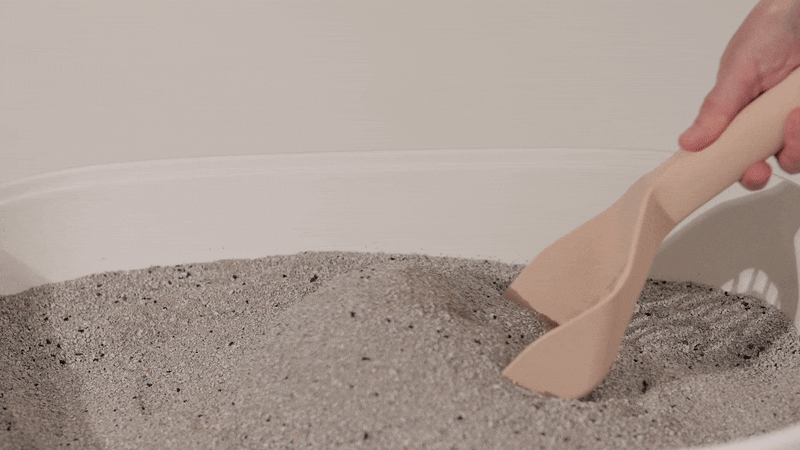 Just tilt to the back for big clumps!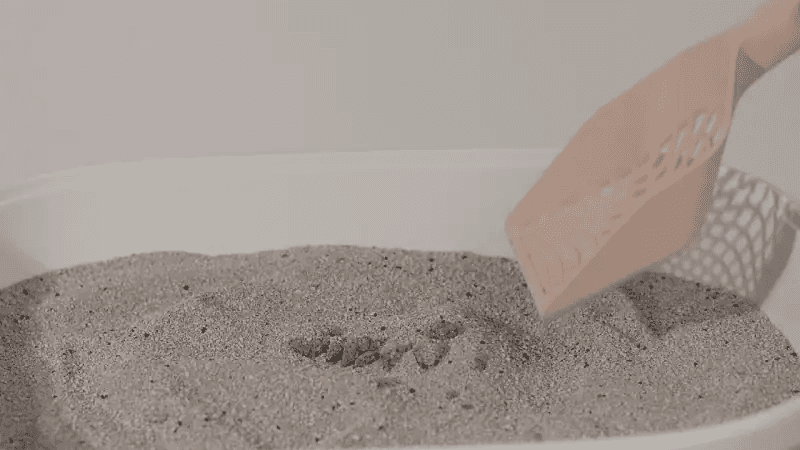 Shake it lightly in the front for small crumbs!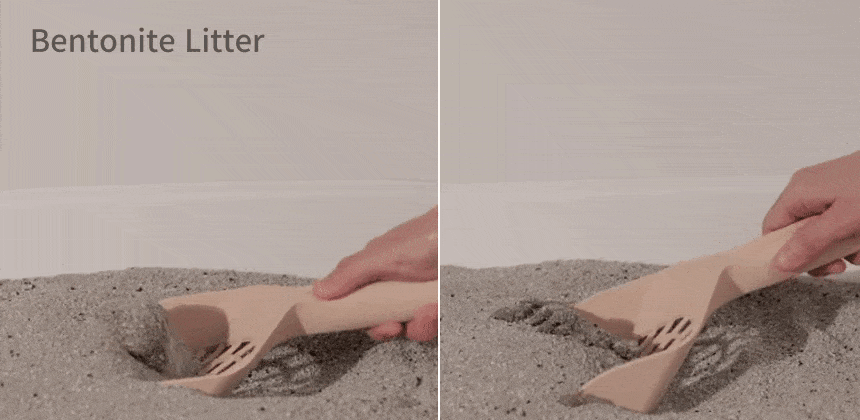 Bentonite Litter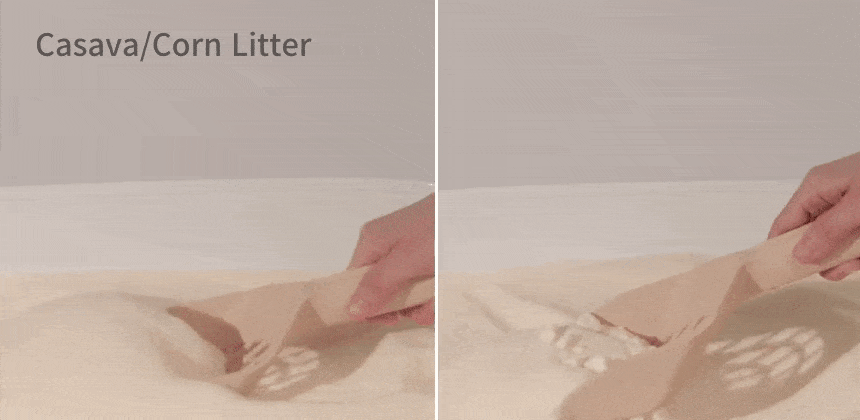 Casava/Corn Litter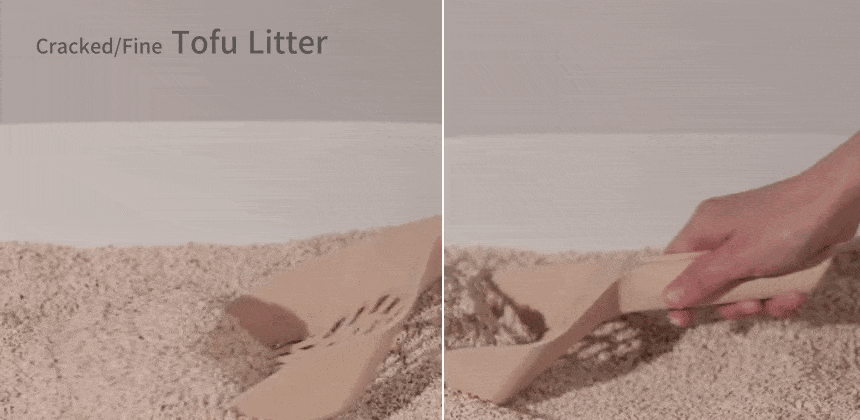 Cracked/Fine Tofu Litter
With the holes that come in a spider web pattern, [SPIDER SCOOP] can filter all types of litter, including bentonite, casava/corn, cracked/ultrafine tofu litters.

*Caution: It may not be suitable for litters bigger than 4mm or absorbent litters.

Now, there's no need to shake hard! Just scoop in the litter, tilt it back, and you can collect the clump! Just shake gently with the front part for the small pieces!
[SPIDER SCOOP] is a giant scoop measuring the size of 12cm x 29.6. It saves time when cleaning multiple litter boxes or extra-large litter boxes by reducing the number of scooping.
[SPIDER SCOOP] is big and sturdy but light. It only weighs 103g. It will not affect our wrists from daily scooping.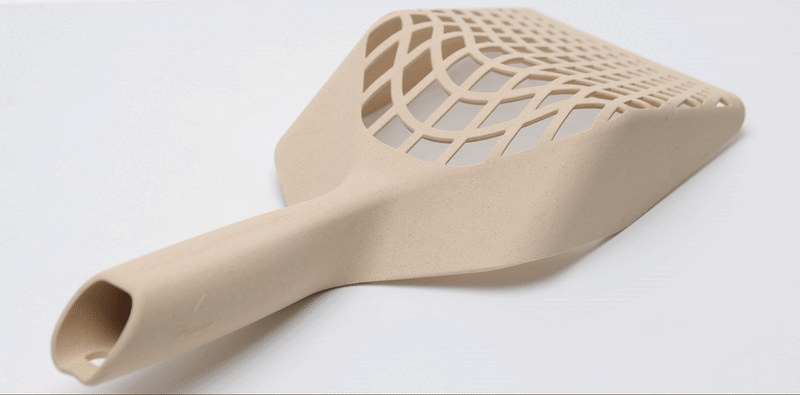 SPIDER SCOOP is made with a biocomposite material DuraSense of StoraEnso, a global corporation in Sweden
[SPIDER SCOOP] is closer to nature made out of safe and healthy biocomposite materials.Let's start the 'good consumption' for the environment with [SPIDER SCOOP]!
Biocomposites
They are a composition of wood fiber and polymer and natural, renewable materials that can reduce the carbon emission and minimize greenhouse gas emission. Reduce maximum 80% of CO2 and more than 50% of plastic use
Used DuraSense of StoraEnso, a global corporation in Sweden
DuraSense Certification mark
All processes of planning, designing, mock-up, molding, and injecting of [SPIDER SCOOP] is directly performed by MONDOMIO in Korea.
SPIDER SCOOP test result, 10 RoHS substances not found
Test completed by a trustworthy national certified organization (KOTITI) RoHS 10 Substances Cadmium (Cd), Lead (Pb), Mercury (Hg), Hexavalent Chromium, PBB, PBDE, DEHP, BBP, DBP, DIBP were not detected. Non-toxic, and be used with confidence!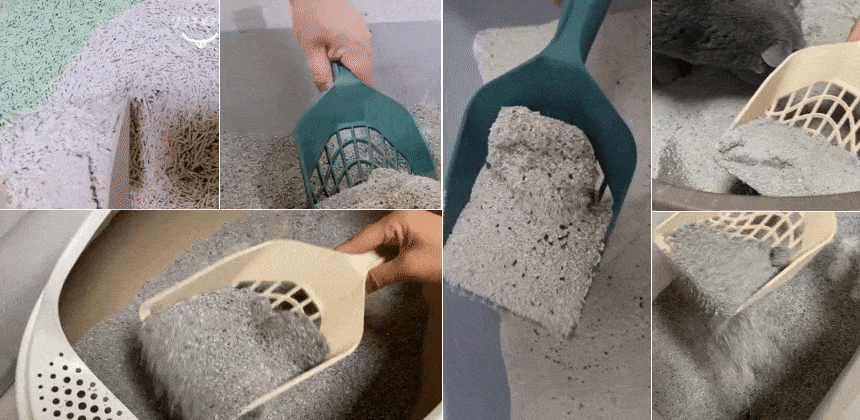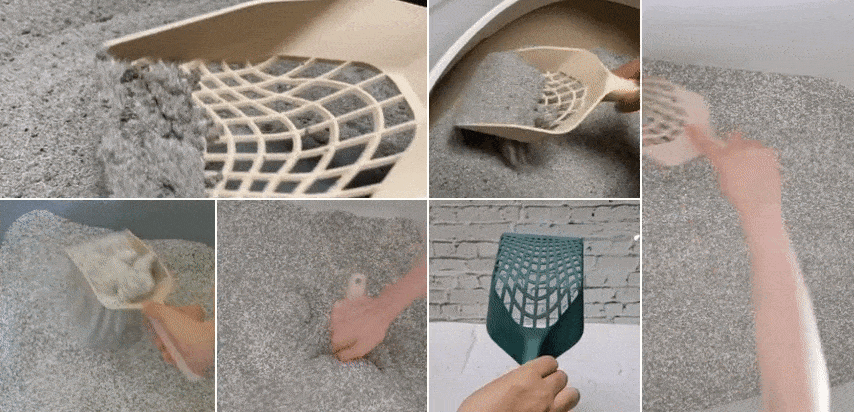 *The color of the product may differ between the photograph and the actual product depending on the shooting environment and the device display.
- This was made for cat litter box cleaning only, do not use for any other purpose.
- For cleaning instruction, wash with water and detergent. Dry at room temperature before use
- Do not use in places exposed to fire or heat
- Keep out of reach of infant and children
The World Renowned 'MONDOMIOPET'
- TAIWAN INNOTECH EXPO 'Platinum Award' (Korea's first Award)
- SEOUL INTERNATIONAL INVENTION FAIR 'Gold Award, Silver Award, Bronze Award'
- GERMANY IF Design Award 'WINNER' (The World's Top 3 Design Awards)
- USA, IDEA Design Award 'FINALIST' (The World's Top 3 Design Awards)
- USA, DNA Paris Design Awards 'WINNER'
- KOREA Good Design Award 'Excellent Design'
MONDOMIOPET was recognized for its design skill and technological excellence, having won numerous national and international awards and holding intellectual property rights. (patent, utility model, design registration, trademark registration, etc.)
* WARNING

: All products of MONDOMIOPET are protected by intellectual property rights through patents, utility models, and registration of design & trademark. Any manufacture or sale of a replica or knock-off based on our technology or design may be subject to legal action.
From Design to Production, Retail to After-Service
[MONDOMIOPET]
led by a Domus Academy and I.E.D. alumna and developed by professional researchers. [MONDOMIOPET] is the best brand you can offer to your lovely companions.
High-end Product Made and Managed by Experts
All products of MONDOMIOPET are either MONDOMIO or OEM products, meeting its high standards of product management. Retail and AS are managed directly by MONDOMIO.
Designed by MONDOMIO
Made in Korea
mondomio.net
053-856-1763